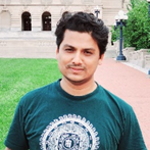 Ph.D. Student
Contact Information:
Education
Ph.D., Forestry, University of Missouri – Columbia, 2019 – present
M.S., Environmental Studies (GIS and Remote Sensing), Kentucky State University, 2019
B.S., Agricultural Science, Tribhuvan University, Nepal, 2014
Research Interests
My research focuses on using integrated Forest Service data and GIS techniques for mapping white oak mortality across the Central Hardwoods of the United States. Investigating the use of biotic and abiotic factors to help in the estimation of oak decline and its condition in the study area. Using the Forest Landscape Model (LANDIS PRO) to project future estimates of white oak mortality helping in the decision support system to facilitate forest managers, landowners and sustainable forest management.